Exchange Online vs On Premise – Comparison
No doubt, Microsoft Exchange has been the best messaging service and preferred choice all over the world. But, for the last few years, Exchange On-premises has received a lot of attention regarding how to frame, work on it and retain its environment. Still, there is a gradual progression to the cloud storage space.
The organization largely depends on IT to figure out whether email services should be saved on cloud or on-premises. Then, it becomes necessary to start transmitting the future of emails and calendaring server.
The unique features of Exchange Online vs On premise are discussed in the post. Also, the major differences are also explained to make a clear choice between the two.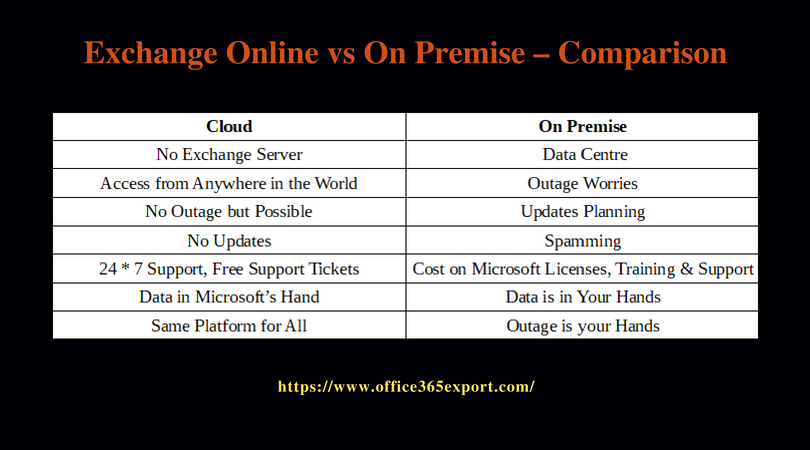 Knowing the Right Requirements
Before selecting any one email service provider between the two, users must find answers to some of the questions related to their email ecosystem. Some of the questions that are to be considered by any organization are:
Is it possible for users to work from any machine or device at any time?
Will email be considered as the primary medium of communication?
What will happen if the email server will suffer from downtime?
Will it be possible to sync their calendars, contacts, emails, and meetings?
If users can find out answers to any of the queries, then it can safely be known that the company needs Exchange On premises or Office 365 Exchange Online. If these common questions are not according to the interest of the organization, then users can consider the difference between Exchange Online and on premise. It will help users to understand the preference of the organization.
The Uniqueness of Exchange Online and On Premise
Some of the factors are discussed here to compare Exchange online and on premise. Users are advised to go through them in order to figure out their requirements.
Online Capability: Exchange Online takes advantage of the online features and services which are not present on Exchange on-premises. Together with the machine learning services that automatically respond among different sort of emails, Exchange Online exhibits some collaboration features like Office 365 groups. These are almost impossible to deploy on-premises. Exchange on-premise will require almost several weeks to take benefit of features like team mailboxes.
Economies of Sale: Exchange On-premises will always struggle to copy the sheer size and scale of mailboxes of the Exchange Online. Even though Exchange On-premise will take the advantage of the average-sized servers and JBOD disks embedded in the Exchange preferred architecture, it demands an extraordinary scalability to get what Exchange Online allows, costing $4 for 50 GB mailbox.
Exchange On-premises demands components such as redundant data centers, load balancers, and dispersion of mailbox to lower risk. No doubt, Exchange On-premises will be as trustworthy as Exchange Online, it will be difficult to balance cost and risk factor. The lesser risk on-premises, the higher cost per mailbox.
Speed: It is impossible to compete against Exchange Online for the time it takes to arrange user mailbox, and updates its firmware by Exchange On-premises. Exchange Online is capable to service updates on a daily basis.
Exchange On-premise exhibits features with the help of cumulative update and service packs, which may change according to the version of Exchange. Moreover, cumulative updates and service packs might also support each other dependencies, like .NET, to be upgraded.
On the contrary, Exchange Online inherits these dependencies and enables features at a rapid speed. An operation which can be achieved by Exchange Online in minutes or hours, Exchange On-premises will require months or years to execute the same update for an enterprise edition of the Exchange.
Efficiency: While using Exchange Online, it is not needed that admins monitor application logs, check backups, and even re-balance the availability group of the database after patching server farm. But, with Exchange On-premises, admins have to continuously check the status of previously mentioned tasks along with creating and maintaining a reliable service. Exchange On-premises also wants an operational staff, which corresponds to an extra weight, which does not connect to a more optimized performance.
Flexibility: No doubt, Exchange Online is acceptable in the terms of storage and archiving of data up to 100 GB. But, it is far away from flexibility. Users can take benefit of the features present in the Exchange Online feature description, but cannot expand the options and build their own services and options.
On the other hand, Exchange On-premises equips the users with the full flexibility of deployment, especially because of the reason IT company can arrange them within their budgetary constraints.
Final Words
As already discussed above, there are multiple difference between Exchange online and on premise. It completely depends on the organization, whether to choose the cloud storage or on-premises. Although it is difficult to exit against must-have features and services, it has to be decided very carefully.