Office 365 vs Office 2016 - Comparison
There is a large variety of products and services offered by the Microsoft. But, in this article, we are focusing on only two services of Microsoft i.e. Office 365 and traditional Office 2016, 2013, 2010, 2007 and 2003. We will also tell you how Office 365 is better than the traditional Microsoft Office 2016. First, let's have an idea about Office 365 application and Microsoft Office.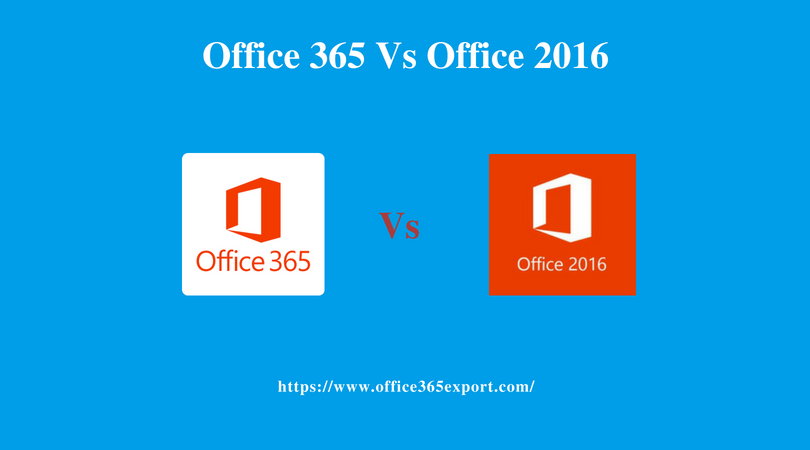 Microsoft Office is the traditional product that is sold for only one time with up-front cost. Users need to buy any version of MS Office Suite. After that, they can install it on a single PC or Mac machine and use for as long as they want. There is no expiry date in the MS Office. On the other hand, Office 365 is the latest service of Microsoft. To use this program, users need to pay or take a subscription plan on the monthly or yearly basis. After that, they can access the Office 365 as long as they pay the fee. In this, users get many additional features like cross-platform, OneDrive cloud storage, and provide apps for Smartphone, tablet, laptop, and PC. Apart from this, there are also many advantages of Office 365 over traditional Office. We will discuss Office 365 vs Office 2016 comparison in details:
Let's Know Which is Better Office 365 or Office 2016
It is required to know that Office 365 is a subscription-based program, while the traditional Office suite is a one-time purchase service. Moreover, there are many other notable differences between these two services. Some of the reasons are discussed below why it is beneficial to choose Office 365 over the traditional Office suite.
Office 365 is Cost-Effective
Small monthly payments can be easily affordable by the users while it may intricate to pay a big amount at once. So, we can say that Office 365 is a cost-effective program as compared to traditional Office Suite. In addition, when a person purchases the Office 365 subscription through Microsoft, then Office 365 can offer users with a discount when paying for 12 months ahead of time. It will help users in cost savings.
Office 365 Stays Up-to-Date
The traditional Office suite provides the most recent version at the time of downloading. As for example, if a person downloads the Office Suite today, then he or she will get Office 2016 version. The main problem is that after several years if they need to upgrade the Office Suite with the recent version, then it can be another major expense in itself. But, in the Office 365, you will always get the latest version of MS Office without purchasing the new software. Also, it is more reliable, efficient, and easy to budget around.
Office 365 is More Flexible
Traditional Office Suite is a one-time download, unlike its subscription-based complement. However, Office 365 allows getting different levels of service according to the user's requirements. This also helps in the business to find exactly the same kind of functionality that user's need out of Office 365.
Which is Better For You? Factors to be Considered
There are few things to consider which decide the benefits of Office 365. As we will see in this comparison, Microsoft Office 365 is much better than traditional Office 2016, 2013, 2010 and 2007 Suite.
Devices
Office 365 can be used on various devices such as a laptop, PC, tablet, and Smart phone. Also, people can use the Office package up to five devices. But, if talking about the traditional Office 2016, then it will be restricted to use only an individual PC or laptop. If you want to use Office on all of your connected devices, then Office 365 is best in this case.
Storage
Generally, people think that Office 365 is a Cloud-based storage system. So, they cannot access or save the data on Office 365 without internet connectivity. But, it is not just true. People can use this application offline and easily create documents that can be saved offline. Apart from this, Office 365 packages come with 1TB online storage space while Office 2013 packages are bundled with only 15GB of online storage. But clearly, Office 365 is the better supported program.
Support
Office 365 is continually supported. However, Microsoft provides technical support through chat or phone at no any additional charge. Needless to say, this option is not available for traditional Office suite users. Moreover, Office 365 comes in two packages; one is personal which is accessed by only one user. Another is Office 365 Home's storage that can be shared by up to five users.
Upgrades
Microsoft assures that as long as the users continue to pay their subscription of Office 365, they can continue to upgrade their package with the latest versions of Office 365. But, in the traditional Office, people are stuck with what they bought. If they want to update their old version to the new one, then they have to pay more charges.
Extra
Microsoft Office 365 comes with 60 minutes a month of free international calls through Skype. But, this feature is not available in the traditional Office.
Office 365 vs Office 2016: What to Choose?
In this write-up, we have tried to clear the confusion between Office 365 and Microsoft Office by providing all the information related to both the services. At the end, the winner of this comparison is Office 365. Because there are many advantages of Office 365 over the traditional Office 2016, 2013, 2010, 2007 and 2003 are discussed in this blog.