How to Download Outlook 365 Emails – Two Easy Methods
If you are looking for ways to backup Outlook 365 data locally, then you are in right place. In this article, we will discuss 2 of the best techniques using which Admin or a user can download Outlook 365 emails on their local computer.
This article is for both single users or organizations that want to take backup of their employee's Outlook 365 data for various security and personal reasons.
No matter, what your reason is, after going through this article you will absolutely have the correct idea & strategy in your mind for downloading emails from Outlook 365 user account(s).
So, without taking much of your more time, let's get started with the technique to do the task.
Method #1: Use MS Outlook Application to Download Outlook 365 Emails
One of the free and basic methods for downloading Outlook 365 emails of a single user is by using the desktop MS Outlook application.
Note: If you don't have MS Outlook installed, then first download and launch it before proceeding with steps. In case if you are having trouble in configuring it, contact support or try method 2.
So, if you have already had MS Outlook installed on your machine, then you can proceed with the downloading steps:
The first step to download Outlook 365 emails is configuring Outlook 365 with MS Outlook. For that, you need to goto the File tab in MS Outlook, and then use the "Add Account" option to enter Outlook 365 account details and click on Start to begin configuration.
MS Outlook will start synchronizing Outlook 365 and MS Outlook by fetching Outlook 365 account emails into the desktop Outlook application. The fetching may take a few hours/day to complete, depending upon the data stored in Outlook 365 account.
Once the configuration is over, goto the File tab, select the Open&Export tab, and then click on the "Import/Export" button.
Now, you will get a pop-up Import/Export wizard, where you need to select the task you need to perform. Choose "export to a file" option from the list and click on Next button.
In the new window, you need to select the format in which you want to download your Outlook 365 emails. Here, choose "Outlook data file (.pst)" option from the list and click Next.
Now export Outlook data file tab will open. Here, you need to select the Outlook 365 mailbox whose emails need to be downloaded. Either select a single mailbox or complete the account and then click on the Next button.
Finally, browse the location to download Outlook 365 emails and then hit "Finish" button.
Now, MS Outlook will start downloading the data and show you the status bar. Once completed, you will receive a notification, click OK and exit the MS Outlook.
Now you can visit the choose location to get the .pst file containing Outlook 365 emails.
"The generated .pst file can only be read or access inside the Outlook application. So, occasionally you required the access your Outlook 365 emails then you can do it with MS Outlook or choose a solution that can download emails in .eml or .msg file format"
Some Of the Shortcoming of using MS Outlook For Downloading Emails
Configuring an Outlook 365 with MS Outlook decreases Outlook 365 account security. As the account data can be directly accessed via MS Outlook and there is no need for authentication to open it.
Additional steps need to be performed to de-synchronize Outlook 365 account and history needs to be deleted also.
Only one account data can be downloaded at a time
Doesn't download other items such as contacts and calendar data.
No filtering option for downloading selected emails
Method #2: Download Single/Multiple Outlook 365 Emails Simultaneously
To overcome all the limitations of the manual approach (method 1), the best possible solution is to take the help of the Office 365 export tool. This tool is capable of downloading single/multiple Outlook 365 account emails in multiple file formats (pst, eml, msg). Apart from emails you can also download contacts, calendars, archive mailbox, and shared mailbox data using this tool.
Following are the top features offered by the automated tool:
Option to login into tool with and without Admin account credentials.
Download single/multiple account emails simultaneously
Backup & Download emails in 3 file formats: PST, EML, MSG
Offers split PST option to get variable size pst file.
Downloads archive mailbox of each user.
Provide feature to download shared mailbox via Admin account.
Use the category filter option to backup specific type of items
Date-Range filter option for downloading particular date-range emails only.
Much more...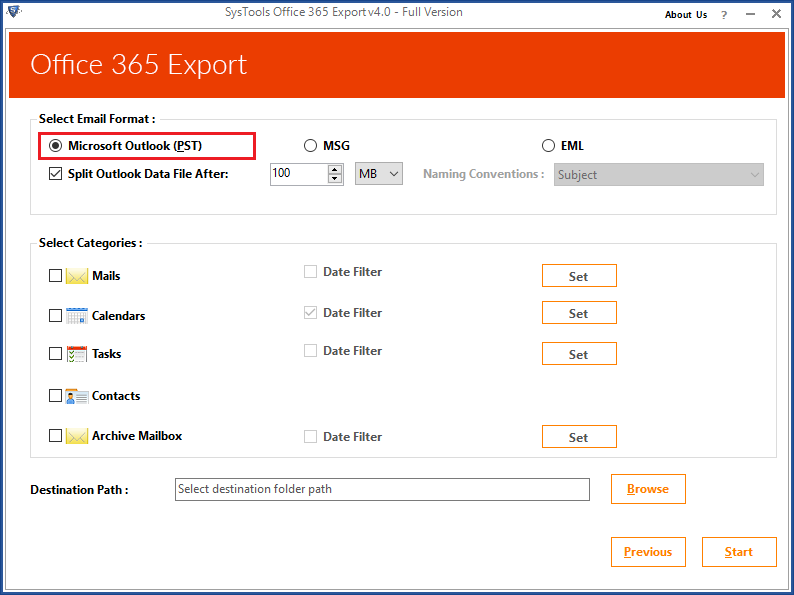 You can download the tool from the below button to get the free demo .exe of the tool. Using which you can download the first 100 emails of each user in desired file format.
Final Words
This article offers details of techniques to download Outlook 365 emails for single as well as multiple users simultaneously. Here, we have explained manual and automated solutions. You can compare both using the above details and pick the best suited one for yourself.