Lotus Notes vs Office 365 Comparison
Both IBM Lotus Notes and Office 365 have the similar goals but these are greatly different in the approach to delivering emails. However, both email clients seem to be similar if the seeker is unaware about these applications. In the era of Client-Servers, the Office 365 is a server program that allows emails to be transferred to users with other operations. Whereas, IBM Lotus Notes is a client software product with the server which is known as Lotus Domino. Both the clients provide enterprise level of operations. In this situation, it is difficult to decide which application is better. So, we will read more about Lotus Notes Vs Office 365 & know which is better with its performance & other features. Before directly going to the advantages of Office 365 over Lotus Notes, we will first discuss in brief about IBM Lotus Notes and Office 365.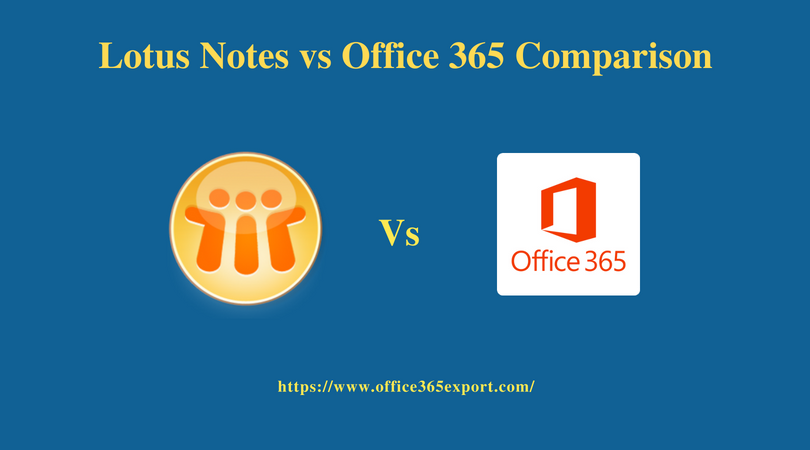 Know More About IBM Lotus Notes
Lotus Notes uses NSF file extension to save the mailbox data. It offers so many functionalities, which makes it much more than an email client. It provides various options to the users as well such as journals, to-do lists, address book, bookmarks, tasks, team-rooms, templates, discussion forum, micro-blogging, instant messages, file sharing, user-directories, blogs, etc. So, we can say that it is a complete enterprise solution which can fulfill all the organizational email activities. Lotus Notes mailbox data can be accessed on both local as well as server-based applications. There are some features of IBM Notes which are discussed in the following section:
Email communication and quick messaging
Accessible on local & server-based applications
To-Do lists, calendars, and many other features
It also offers Web browsing
Brief Introduction to Office 365
Office 365 is a cloud-based collaboration & connectivity suite of Microsoft. It includes Exchange Online for the email communication with the help of its various applications like Office Web-Apps, SharePoint, Office Online, SharePoint Online, Lync Online, Skype for Business etc. It provides various plans to its users by which they can subscribe on the monthly or yearly basis. A subscriber can pay only for the apps or services that he or she uses and they can cancel the subscription of any service or app at any point of time. Let's discuss some of the important facts of Office 365:
Office Online is the free desktop or mobile version of MS Office
The OneDrive is for the online storage drive for storing data
Skype for Business is for instant messaging & video conferences
SharePoint Online can be used for web content creation & collaboration
IBM Lotus Notes vs Office 365 Comparison
The following section will help you decide the winner of Office 365 vs Lotus Notes. Now let's look at some of the major difference between Lotus Notes and Office 365:
| | | | |
| --- | --- | --- | --- |
| S.No. | Parameters | Lotus Notes | Office 365 |
| 1. | Mailbox Size Limitation | No any size limitation of the mailbox | Only 50 GB mailbox size restriction |
| 2. | IMAP Option | IBM Lotus Notes allows to use IMAP protocol | Does not support IMAP protocol. So, users have to use Active Sync protocol. |
| 3. | Managing Content | Lotus Notes doesn't provide any option to manage the contents. | Office 365 helps to set-up and manage all the online communities, wikis & blogs, etc. |
| 4. | Environment | Collaborative environment is not available in IBM Notes. | Users can cooperate with their team members and customers using the documents that are accessible from anywhere. |
| 5. | Mobility | IBM Lotus Notes does not render the convenient mobility option. | users can work from anywhere by using the Office 365 application on systems and even the mobile devices. |
| 6. | Communication | It doesn't provide any reliable application like Office 365. | Office 365 has Skype for Business, which helps in better communications. |
| 7. | Room & Resource | Each & every department of Lotus Notes is having a separate Room and Resource Reservations database. | In the Office 365, Room and Resource are having its own separate mailbox or calendar. |
Time to Wrap Up
This article has compared Lotus Notes vs Office 365 and explained the advantages of Office 365 over Lotus Notes. The main focus is on environments, features, working, etc. of Lotus Notes and Office 365. Apart of this, we have also discussed the differences between IBM Lotus Notes & Office 365 which clears the confusion of users that which email client is better for them.