Google Apps vs Office 365 Feature Comparison Chart
Both Office 365 and Google apps (G suite) are most famous Office productivity suite of Microsoft and Google that let you perform common business tasks in the cloud. And, both allows to create documents, cloud storage, spreadsheets, presentations, etc. It also supports video conferencing and collaborates with team members. The similarity in their features makes it difficult for a user to choose one of them. When people think about choosing one of them, it tends to spring to their mind. Therefore, in this post, we will discuss similarities and differences between them and also tell you which is better Office 365 or Google Apps.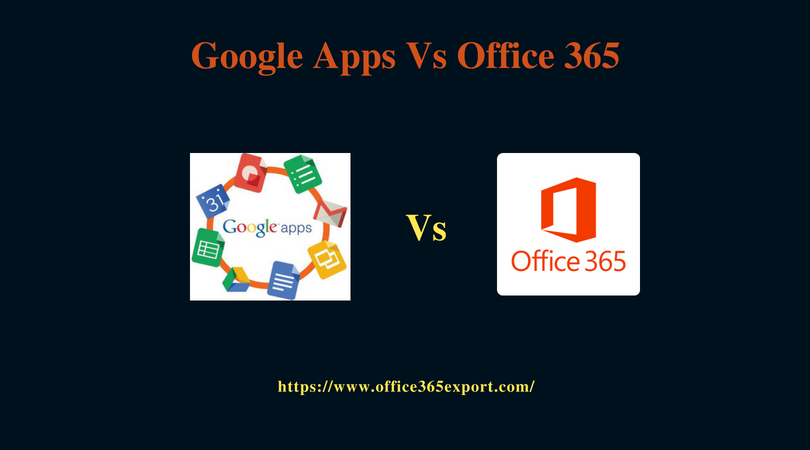 A Quick Overview
Office 365: Office 365 is built for power and it is supported by both web and desktop. Also, it is accessible by Windows, Mac OS, and mobile platforms. It has built from the ground up with the programs that a user required to using MS Word, Excel, and PowerPoint.
G Suite: Google apps or G suite is built for collaboration and it only has their Web version. It cannot be used offline via the Chrome browser with file-syncing enabled. Also, G Suite is accessible by Windows, Mac OS, iOS, and Android platforms.
Some Common Similarities Between Office 365 and G Suite
There are some common capabilities between Office 365 and Google Apps:
G Suite and Office 365 can take backup in PST format.
Provides both online and offline cloud storage.
Both provide 24/7 Support through phone and web.
The ability to create and edit Office 365 files.
Use online readers and editors for quick viewing and editing.
Capable to send an email with custom domain names.
Two-step authentication & Spam filtering for security.
Customizable themes to change colors, backgrounds, and layouts.
Option to Share screen, Instant messaging and archive chat logs.
The Comparison Between Office 365 Vs G Suite
The following tabular information covers the main differences between Office 365 and G Suite:
| | | | |
| --- | --- | --- | --- |
| S.No. | Parameters | Office 365 | Google Apps (G Suite) |
| 1. | Applications | Office 365 supports the MS Word, Excel, Outlook and more while working in offline mode. Another advanced applications of Office 365 are SharePoint, Dynamic CRM, and Azure. | G suite offers many web-based services like Google calendar, make permanent changes in the file, better file management, feedback in suggestion mode, etc. |
| 2. | Communication | Use Skype for business. It is capable of being fully integrated enterprise-class telephone replacement, with max 250 participants. | Use Google Hangouts. It can sync conversations across devices & built into many G Suite applications, with max 25 participants. |
| 3. | Content Management | It offers SharePoint with Metadata tagging, Check-in/ Check-out system to prevent simultaneous changes, Records Management option, and Automated workflow processes. New data can be imported immediately. | It includes Sites that offers Quick deployment and ability to build ad-hoc teams. One can have sites up and running within an hour. It provides more user- friendly features. |
| 4. | Pricing | O365 offers various different plans. Enterprise Level E3 is $20 per user per month, that includes web and desktop applications, unlimited Cloud storage with 50GB of e-mail storage, unlimited users, and 24/7 web and phone support. | G Suite offers two plans for a business that is $10 & $ 5 per user per month, which includes a full online product suite, unlimited Cloud storage with 1TB per user if fewer than 5 users, & 24/7 Web, phone & chat support. |
| 5. | Notes | It provides One Note, that is robust and offers indexed notes and notebooks that are built into libraries. | It provides Keep, that is simple to use and can function as stand-alone notes. It is modeled after Sticky Notes. |
| 6. | Social Networking | It has Yammer, which is within your organization and your invitees. This is a good choice if you want a private network. | G Suite offers Google+ for social networking. It is the best choice if you want a public social network. |
| 7. | Email services | Office 365 uses classical folder hierarchy to classify the emails. It provides total 1 TB of storage space and 50 GB additional space for the Inbox. | Gmail of G Suite allows users to add multiple labels in an email that provides 30GB of storage limit in Gmail and Google Drive. |
| 8. | Security | It uses Advanced Threat Protection for security reasons. It has a new email filtering option whose main motive is to targets particularly advanced threats like an infected virus and unknown malware in real time. | It takes advantage of machine learning to find the unsecured & unauthorized logins. It scans each email attachment automatically before one can download it in order to avoid the spread of viruses. |
The Observational Verdict: Which is Better Office 365 or G Suite
To making choice between the Office 365 and G suite, is very difficult. But, after the discussions of this post, it is noticed that the choice totally depends on your requirements. If you want an integration with third-party applications and use all cloud-based services only, then go for G Suite. On the other hand, if you need to choose a better plan in less price then, Office 365 is the best choice. Moreover, if you regularly work on all other application of Microsoft Office Suite and want to avail its advanced services, then go for Office 365. Thus, there is always a neck to neck competition between G Suite vs Office 365. In this post, a deep comparison is done between the both so, one can choose easily between the both based on their requirement.