Microsoft Office 365 without Internet Connection – Working Offline
Are you trying to search for a solution to work Offline with Office 365? You are at right place, I am going to explain 5 tricks to use Office 365 Offline. After reading this blog, you will be able to use Microsoft Office 365 without internet Connection.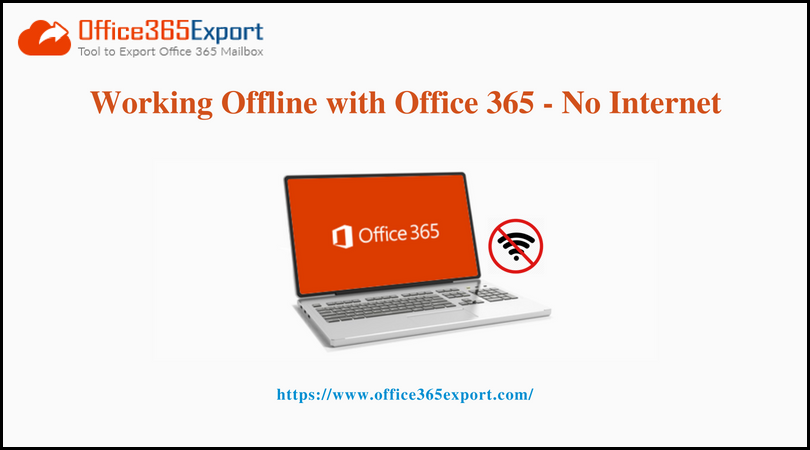 Office 365 is an email application launched by Microsoft. It is a web-based email service provider that requires internet connectivity for working on it. But, even in the absence of internet connection, Office 365 offers a wide range of the highlighted features. Office 365 is an application which comes in 3 standard plans for the business.
If you want to make use of Office 365 disconnected, it is needed to purchase an arrangement that will consider the full usage of Office on the local system, even in the absence of web association.
Tips for Working Offline with Office 365
The topmost 5 tips are explained below to make use of Office 365 Offline in the absence of internet connection:
1. Select an Exchange Online Plan Which Allows Offline Usage
Office 365 Business Essentials: Permits your team to use email and Office online with a space of 1 TB for sharing and storing files per user. This plan does not permit the user to work offline with Office 365.
Office 365 Business: This edition does not comprise of emails, but consists of the full edition of Office for Macs and PCs. A storage space of 1 TB is also available with this alternative.
Office 365 Business Premium: This edition is the most famous and feature-enabled version of Office 365. This plan consists of hosted emails, complete editions of Exchange Online for Macs and PCs, 1 TB of file storage, and HD video conferencing.
2. Sign in For Keeping the Subscription Active
If you have Office 365 Business Premium or Office 365 Business subscriptions, then you can use Office 365 offline. It means that you are equipped with full editions of Office, which can be downloaded to the system of each user for offline use. The only prerequisite is to keep the account of every user active for 30 days. It means it should be logged in.
3. Examine What is Present in Offline Editions of O365
If users have offline access to Office 365, it means you can avail the usability of Word, PowerPoint, Excel, Outlook, OneNote, Access, and Publisher. If you are offline, then some of the services may not be present till the web collaboration is extracted.
4. Make Sure that OneDrive is Synced in a Proper Way
OneDrive is a feature which permits the user to operate with documents from the cloud storage till you sync your documents properly before losing the internet connection. Once you make sure that OneDrive is synced properly, you can work with the important documents, even in the absence of internet connection. After the OneDrive detects internet connectivity, this feature will sync with the cloud account at that moment and keep all the documents up to date.
5. Check Whether Offline Editions of Office are Updated
One of the most important advantages of Office 365 Exchange Online is that if you have an adequate subscription, you can always access the latest editions of Office 365 at the local system. If there is no active internet connection, you are in doubt whether you have the latest edition or not. By connecting to the internet periodically, you can ensure that you have the most recent editions of Office. This will prevent the problems that were examined and resolved since you were last online.
Wrapping Up
In the above article, we have explained how to use Office 365 Offline without internet connection. Office 365 is a web-based email service provider which requires internet connectivity. But, the main advantage of O365 is it can also be used offline. So, the post describes the 5 tips for working offline with Office 365. All the possible plans and their differences have been discussed in detail.